COACHES
Learn more about all of our dedicated and amazing coaches from a wide variety of backgrounds!
HEAD COACH
Tamara has been involved in Rhythmic Gymnastics (RG) and Aesthetic Group Gymnastics (AGG) since she was 7 years old and has been performing and competing ever since. Her last competition was in 2014 at the "Masters" Level at the AGG 4 Continent Championships.
Tamara is a former member of the Canadian National Team for Rhythmic Gymnastics. She was on the team from 1984 – 1989 in the group event. She competed in Brazil, Monaco, the USA, and in the 4 Continent Championships in Toronto, where her group placed 2nd.
She was also consistently part of the Senior Elite at Kalev Estienne in Toronto which took her around the world performing her art. She performed at World Gymnaestrada's in Denmark, Germany, and Holland.
Tamara has her National Coaching Certification Program (NCCP) Levels 1 and 2 and coached for many years in the past. She also co-choreographed a routine that was performed by 250 young rhythmic gymnasts that was performed at a Toronto Blue Jays game at the Rogers Centre in Toronto.
Tamara obtained a degree in Physical and Health Education from Queen's University in 1995. She more recently went to teacher's college, receiving her teaching certification and Masters in Childhood Education in 2012.
Tamara and her husband Ron have lived in Milton since 2003. They have 4 children: 1 boy and 3 little girls that are following in their mother's footsteps with the love of movement.
ASSISTANT HEAD COACH
Training
Originally from Israel, Kate began her training in rhythmic gymnastics and ballet. In 2009, Kate joined the Canadian national rhythmic gymnastics team, winning all overall best achievements. In 2011 Kate joined the national Aesthetic group gymnastics team of Canada. She represented Canada in many international competitions including the first pan American tournament in Mexico last year. Kate also represented Canada in 3 world cups in Spain and the Unites States. As well as, world championships in Bulgaria and Estonia. After finishing her gymnastics career, Kate started training in ballet, modern, contemporary, jazz and urban dance styles.
Education
Kate graduated from Ryerson's BFA performance dance program where she was trained in ballet, jazz, modern, Cuban contemporary, partnering and urban styles. Kate is very passionate about choreographing and directing. She showcased three of her own pieces "United Chaos", "Ascendance" and "Route to dance" as a part of Choreographic works and Enchoreo. In her final year of university, Kate produced a full-length piece called "Parallels" as a part of the New Voices festival as well as a part of an independent show.
Work
Kate started assisting her gymnastics coaches when she was only 14 years old. By 16, she started coaching her own gymnastics groups. Kate also discovered her talent in choreography, which then led her to getting a dance degree in University.
Kate has been coaching and choreographing for recreational, provincial and national athletes for nearly 10 years. She holds a strong passion for gymnastics and as a result, Kate launched "RG Intensive Canada" which is an intensive camp in Toronto. RGIC was founded in order to provide Canadian gymnasts with high level training by exposing them to world class gymnasts, coaches and judges.The soul purpose of RGIC is to provide gymnasts with an opportunity to grow outside of their home gyms, with exposure to world class training and experts in the field.
Kate enjoys teaching and sharing her knowledge with students. She likes to create positive, supportive and structured environment in her classes. Kate expects students to step out of their comfort zone and work hard towards their goals. She is very thrilled to join MRG!
Kate is a fully trained rhythmic gymnastics coach
ASSISTANT HEAD COACH
Samantha Gonzalez is a young athlete that had quickly advanced in all types of gymnastics. At the age of 7, she began training recreationally as an artistic gymnast. Soon after, at the age of 9, she began learning the ropes of acrobatic gymnastics. During her time, she began to train harder and longer hours, learning many important skills. This provided her with the amazing opportunity to train with the minds of the acrobatic show "Cirque du Soleil" in 2011. At the end of the competitive season that same year, Samantha discovered the beauty that resides within rhythmic gymnastics. She made the switch in the summer and thrived in it's stimulating environment that was well suited for herself. While she fell in love with the atmosphere and the swift movement of apparatuses, Samantha also competed regionally in various locations.
After the end of her gymnastics career Samantha continues to incorporate physical activity in her life, including coaching rhythmic gymnastics.
She is thrilled to be given the chance to teach children the elegance and grace of rhythmic gymnastics because by giving them the opportunity to train at a young age can launch them into a world of artistic elegance where they will learn discipline and the importance of having faith in themselves.
Samantha is a fully trained rhythmic gymnastics coach.
MALIA RIMROTT
CHOREOGRAPHER AND COACH
Malia Rimrott has been involved in Rhythmic Gymnastics since she was 6 years old. She remained in the competitive stream for 10 years and was a member of the Olympium Rhythmic Gymnastics Club. During her years competing, she ventured through many different aspects the sport has to offer including individuals, duets, groups and Aesthetic Group Gymnastics (AGG). She competed in various competitions around Canada including Elite Canada and Eastern Regional Championships. She later traveled internationally to various events in Estonia and Spain.
Malia was also a member of Kalev Estienne's AGG (Aesthetic Group Gymnastics) team. She and her team represented Canada in many international events including the World Championships in Moscow, Russia. Malia was also a part of the AGG team that won Canada's first gold medal at the 4 Continent Championships in Toronto, 2014.
Since finishing her gymnastic career, Malia began coaching RG at the recreational level for young girls ages 4 to 15 at Olympium Rhythmic Gymnastics Club. Malia is very excited to teach children this beautiful sport and to show young girls the amazing opportunities and experiences Rhythmic Gymnastics has to offer.
Malia is a fully trained rhythmic gymnastics coach.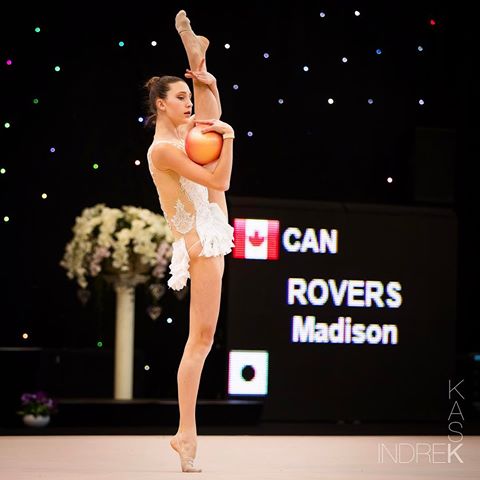 RECREATIONAL COACH
Madison is a devoted and passionate person who strives to help others on and off the floor. Madison began to excel and grow with the sport of gymnastics at the age of 2 when she began artistic gymnastics, then at the age of 9 Madison what offered a position that she could not refuse on the rhythmic gymnastics team, she began to learn all the basic skills required to compete. Shortly after that Madison became a competitive athlete win gold in her provincial championships. A few years later Madison joined the Canadian national team in order to grow as a gymnast. Madison has learned to work with every apparatus with in rhythmic gymnastics. Madison has competed provincially as well as Nationally, this includes places such as Croatia, Greece, Las Vegas, and Estonia. Till this day she can still be found on the competition floor.
Madison has found a big place in her heart for coaching and enjoys working with the younger children helping them grow and eventually reach their full potential.
Madison can be seen coaching occasionally as she is working long hours to fulfill her olympic dream.
RECREATIONAL COACH
Stephanie Heung started her gymnastics career when she was four years old in artistic gymnastics. She excelled in the sport until the age of eight when she was offered an opportunity she could not pass up. Stephanie was invited to join the Seneca College Sports program in rhythmic gymnastics. She fell in love with the sport and went on to compete provincially and nationally. As a young athlete, Stephanie also enjoyed volunteering her time at her local club to coach young girls in rhythmic gymnastics.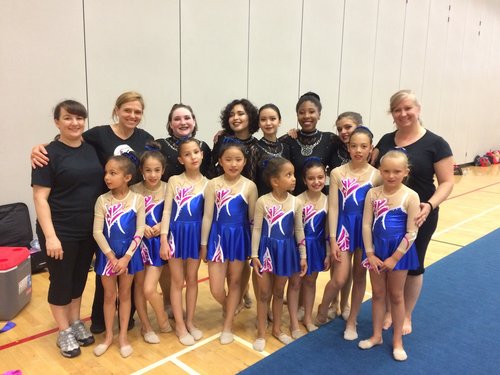 PERFORMANCE TEAM COACH
Pictured second from the left
Former member of the Canadian National Team for Rhythmic Gymnastics
Kati is a fully trained rhythmic gymnastics coach